Practice Notes & Observations – Day 3 OTAs
May 28th, 2015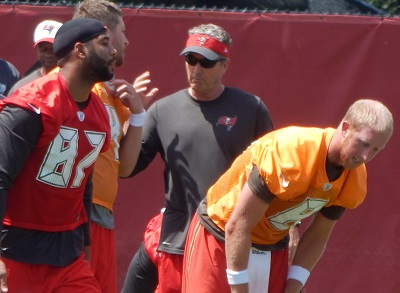 Underwear football is back, and Joe was able to take in a couple hours of practice on the sweltering fields of One Buc Palace today. In sort of an ode to Raheem Morris, 1980s rock music filled the air throughout practice. No rap, so apologies to Raheem.
Here's what Joe found worth sharing:
Lots of bad throws early in practice from Mike Glennon. Very odd. Not a good day for No. 8, with Jameis Winston in California with about 40 other NFL rookies.
Quiet Riot
Drop! Rookie sixth-rounder Kaelin Clay.
Long ball from Glennon to Kenny Bell in 1-on-1 drill.
Def Leopard
That long ball was rare from Glennon. Seemed the offense was specifically working on the short passing game. Time after time after time Glennon looked to be checking down to receivers in the flat or just over the middle. But the receivers were rarely running deep routes; all short stuff.
Bad drop by Charles Sims.
Cinderella
Second team matchup! Nice catch by Mike James flanked by Keith Tandy.
Guys fielding punts today: Kaelin Clay, Bobby Rainey, Rannell Hall, Adam Humphries and Donteea Dye. Rainey looked razor sharp.
AC/DC
Lots of checkdowns by Glennon in 7-on-7 work, so many that it clearly was planned. Last year's infamous backup center Garrett Gilkey snapping the ball to Glennon, as the other offensive linemen were working on a different field.
In receiver drills going one-on-one against corners, the corners were easily getting the best, sticking like glue against the receivers. Then again, the vast majority of these guys will be begging to get Arena League jobs next spring.
Some New Wave Noise From A Band Joe Purged From His Mind In College Over Untold Number Beers
Dirk Koetter is quick to ride Glennon quick to praise. Koetter clearly lets guys know what he's thinking and feeling.
AC/DC
Lots of short throws to backup tight end Taylor Sloat, who spent time on the Bucs' practice squad last year.
First longer pass of the session complete from Seth Lobato to undrafted rookie free agent receiver Rannell Hall.
Journey
Doug Martin takes a handoff and races up the middle for a 40-yard touchdown. Then again, since you cannot hit anyone in underwear football, Martin looked like a boat racing up the Intracoastal in Pinellas County and the defenders were the wake from the boat the way they avoided hitting Martin.
You never know what coaches are seeing in a practice. QB Cach Mike Bajakian is barking at Glennon after what looked like a lovely completion to Vincent Jackson.
Motley Crue
Glennon throwing longer finally. Nice completion to Brandon Myers. Lots of zip.
Glennon to Evans deep. Soft spot in Bucs' zone coverage.
Foreigner
Lots of rookie Kwon Alexander sightings at middle linebacker.
"Wheels" Glennon rolls out to his right and no one is open as Danny Lansanah charges in. Glennon had to setting for throwing the ball away.
Judas Priest
Since "America's Quarterback," Bucs signal-caller Jameis Winston is away today attending an NFL function, Glennon was getting a lot of work, easily 80 percent of the snaps.
The way defenders stayed away from the running backs after they broke the line of scrimmage, you would think all the running backs have a viral stomach flu.
Ratt
Again, "Wheels" rolls out to his right, and again no one was open so Wheels had to drive the ball in the dirt to avoid a lesser result.
11-on-11 work begins and Kevin Pamphile is the first-team left tackle, with Kadeem Edwards at right guard.
Ozzy
Danny Lansanah strips Charles Sims. Hold that ball, Sims! There's not even hitting allowed right now..
Nice catch Clay, with second team.
Foreigner
Drop! Luke Stocker.
Connection of the day goes to Louis Murphy, who caught a 40-yard ball in the left flank with Johnthan Banks in coverage from Glennon. Next play, Glennon to Murphy across the middle. Sharp sequence.
Van Halen
After practice, Bucs special teams coach Kevin O'Dea was in a passionate coach-up chat with seventh-round pick and eager student Joey Iosefa.