Mike Alstott Joins Doug Williams In Ring Of Honor
May 13th, 2015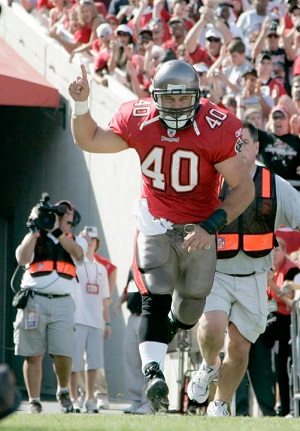 The surprise of the day for many visiting One Buc Palace today, including Joe, was Mike Alstott being rolled out as a 2015 Buccaneers Ring of Honor entry.
Word had leaked in advance on quarterback Doug Williams getting in, so Alstott was a real curveball, since the Bucs had never inducted two in the same year.
His family entered the auditorium seconds before the start and sat in the front row, which was a quite a tip-off before the inductees were formerly announced.
The A-Train, as expected, was thankful, humble and soft-spoken, reading from a script. He also joked that he appreciated all the attention going to Williams, so media — or anyone else — wasn't pestering him at all. The secret was easy.
The Bucs will honor Williams and Alstott on two separate days.
Alstott will be unveiled first during the Buccaneers' October 4 game against the Carolina Panthers. Then, on December 6, Williams will have his day, against the Atlanta Falcons.