Jameis Winston, Chicken Wings & Doug Williams
May 13th, 2015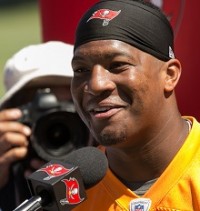 Tampa Bay fans have heard about how Bucs icon and new Ring of Honor inductee Doug Williams is helping mentor Jameis Winston.
Joe's got more info.
Speaking at One Buc Palace today at a ceremony honoring his Ring of Honor induction, Williams said he met Jameis on the banquet circuit more than a year ago.
The two struck up a relationship, and Williams joked about how it's been challenging to maintain because Jameis texts him and Williams isn't much of a texter. However, Williams and Jameis manage to connect with phone calls and their relationship has reached new heights.
Last night, per Williams, he and Jameis ate chicken wings for 90 minutes at a Lee Roy Selmon's restaurant.
Williams is a big Winston fan — he said it various ways on and off the podium — and believes Winston is right for all aspects of his new franchise quarterback gig.
Joe's glad the man drafted to be the Bucs franchise QB in 1978 is there for the new man on campus. It can only help accelerate Jameis' maturity on and off the field.