"He Wants To Study More"
May 13th, 2015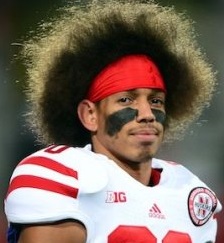 Golf junkie in the house.
Joe's talking about rookie Bucs wide receiver Kenny Bell, who also revealed he thinks Jameis Winston is one of the greatest individuals he's ever encountered.
Bell hopped on the Ron and Ian show on WDAE-AM 620 yesterday and dropped all kinds of interesting nuggets.
Among the highlights:
*Bell explained the NFL Draft wasn't stressful for him as a fifth-round pick because he played 90 holes of golf to stay relaxed during the first two days of the draft, before playing more golf the morning of Day 3, when he was picked that afternoon.
*The Buccaneers playbook was a real eye-opener to him, and infinitely more complicated than his Nebraska experience.
*Regarding that playbook, Bell said his Bucs roommate, Jameis Winston, is obsessed with studying it. Bell said Winston's intelligence and dedication is superior, describing how Bucs rookies are working now from 6 a.m. to 8 p.m. "Then we get back to the hotel and [Jameis] wants to study more.
Enjoy the full audio below. Get to know Mr. Bell.