Is It Hardy's Turn?
May 12th, 2015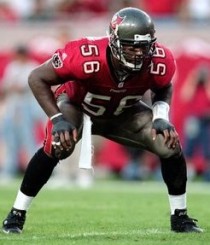 The Buccaneers' Ring of Honor inductee for 2015 will be announced tomorrow, and there's no clear favorite in the mix, as there has been the past two seasons.
There are plenty of deserving candidates. And no, it's too early to exalt Taverras King.
Joe is happy to do a little lobbying for Bucs icon Hardy Nickerson, Tampa Bay's current linebackers coach.
The last two Ring of Honor inductees, Warren Sapp and Derrick Brooks, give loads of credit to Nickerson for his leadership and mentorship when they arrived in Tampa. And Nickerson himself was a five-time Pro Bowler with the Bucs from 1993-1999. The Bucs have had very few of those.
Nickerson was the pulse of one of the nastiest defenses the NFL has ever seen. Plus, who wouldn't want to watch a serious of Nickerson's bone-crushing hits on the JumboTron.
Again, Joe knows there are many deserving candidates, such as Doug Williams, Ricky Bell, Ronde Barber, John Lynch and more.