Is Mike James The Hidden Answer?
May 31st, 2015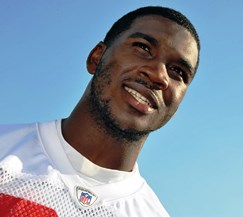 With the exception of Doug Martin's rookie season, the Bucs haven't had a decent run game since LeGarrette Blount and Cadillac Williams combined for 1,444 yards in 2010 (and for you Blountheads, please stop whining about him being traded to the Fighting Belicheats. The guy has been let go by two teams since that trade. The dude isn't Jim Brown).
So four of the past five years, the Bucs run game has been pretty much blech.
Joe isn't excited for this season's running game. As good of a guy Doug Martin is, the past two seasons proved he cannot stay healthy. And no, Joe is not on the Charles Sims bandwagon. The guy showed Joe very little last year. The only reason Joe is giving him a pass is because of his late start after ankle surgery, and he may have been forced into the lineup and force-fed too quickly.
So if your two best backs, neither of which broke 500-yards last year, are both injury-prone, that doesn't inspire confidence
Evan Silva isn't confident, either. He is not won over by Sims and is suspicious of Martin. But Silva believes the answer to the Bucs run game has been buried on the depth chart the past two seasons: Mike James.
Fair to wonder if Mike James might be #Buccaneers best RB if they want a guy who can grind on volume. Martin not answer, Sims a role player.

— Evan Silva (@evansilva) May 30, 2015
Now last year, because he was barely used or because of an embarrassing front line, James didn't do squat. The year prior, James had nice production in limited action. James' 158 yards at Seattle against the soon-to-be Super Bowl champions was damned impressive.
Of course, Silva never mentioned likely the most talented runner in the Bucs backfield, and that is Lovie doghouse tenant Bobby Rainey.