Porous Offensive Line
May 30th, 2015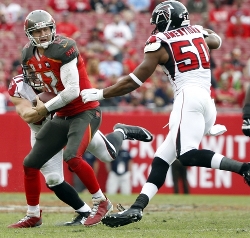 Joe is sure there are other Bucs fans like this: there are dents on the wall behind Joe's 60-inch HDTV from throwing the remote because last year's gutless offensive line couldn't block its own shadow.
Is anyone wondering why former left tackle Anthony Collins can't find work?
Well, the stat geeks, bored on a Saturday, were at it again over at Pro Football Focus. Scott Kacsmar dug up figures that would make most any Bucs fan get thrown out of a mall store for cussing out loud.
Simply put, turnover-prone quarterback Josh McCown and quarterback of the future and quarterback of the past but not quarterback of the present Mike Glennon had no time to throw, as Kacsmar details on Twitter.
Most short (< 2.6 seconds) sacks allowed, 2014 1. Jaguars – 32 2. Buccaneers – 24 3. Dolphins – 23 For f'n shame, Florida.

— Scott Kacsmar (@FO_ScottKacsmar) May 30, 2015
Think about that. Count: "One thousand-and-one, one thousand-and-two" and you had to unload the ball or get pummeled. How the hell can any decent pass play develop in that short of time, play after play? It is appalling.
As gross as the offensive line was last year, even this year with potentially a rookie at left tackle and a Division-III guy at right guard, it probably couldn't be worse than what the Bucs trotted out on Sundays in 2014.
It's a wonder McCown hasn't been to a shrink to be treated for PTSD.