"He's Gotta Outplay Mike Glennon, Too."
May 31st, 2015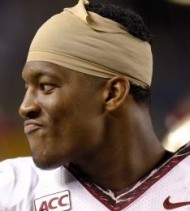 Not every Buccaneers beat writer thinks it's a slam dunk that America's Quarterback, Jameis Winston, is the Tampa Bay starting QB when the snaps really matter.
Man, hearing this yesterday morning really sobered Joe up in a hurry. Esteemed Tampa Tribune beat writer Roy Cummings hopped on WDAE-AM 620 and talked about how the Lovie Smith regime has changed its mindset when it comes to handing out starting jobs.
Lovie Smith gifted a lot of people jobs last year, Cummings noted, and that plan failed.
"I think he learned his lesson a little bit," Cummings said of Lovie. "Not that it was a lesson he had to learn, I think he had faith in those guys, but I think he's decided, along with Jason Licht and the coaching staff, 'You know what, let's make guys earn things right now. Let's put somebody at the top of the depth chart, and instead of just saying he's our starting tackle, or he's our starting quarterback, or he's this or that, let's let him earn it.'

Cummings said the goal is to not have guys feeling "entitled" to a position.

"I think the same thing is sort of happening at quarterback, too. I mean, let's face it, Jameis Winston's going to be the starter more than likely, and we haven't seen the reps the way they go [in practice] when Jameis Winston is there along with Mike Glennon, my guess is that Winston is getting the bulk of them with the first team. But, you know, he's gotta outplay Mike Glennon, too. So I think it's a good thing that they're doing there."
Joe has to respectfully disagree here when it comes to Jameis. Joe is sure it's 100 percent Jameis' job, and the regime has made no effort to dial back expectations of Jameis.
In fact, recent comments from Lovie and Licht have fueled just the opposite. And Joe hasn't heard any kind of serious peep that Glennon is competing for the starting job in any way.
The right thing will happen on opening day of preseason — and the regular season.