Is Jameis Pro-Ready For Hostile Home Turf?
May 23rd, 2015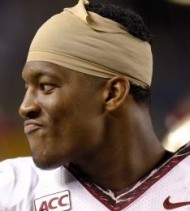 Buccaneers single game tickets go on sale Thursday morning.
And that means Giants and Cowboys fans are going to be gobbling up tickets for those November games in Tampa, as well as Bears fans ringing up their credit cards for the post-Christmas season finale at the Den of Depression.
Joe doesn't want to look at Jameis Winston's face when he realizes that some home games aren't like home games at Florida State University.
Compared to last year, the Bucs waited an extra month to sell single-game tickets. Joe assumes that was to get as many local season tickets sold as possible before welcoming an inevitable flood of Bucs-booing ticket buyers.
Joe is encouraging Tampa Bay fans to buy tickets. Help thin the herd of annoying New Yorkers, Tony Romo lovers and Bears faithful.
The wacky thing is the presence of Jameis, America's Quarterback, is likely to drive up interest from those out-of-town fans, and local fans of those teams.