BS Called On Hard Knocks Distraction
May 23rd, 2015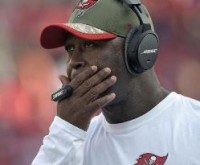 Joe brought word of a report claiming the Bucs will not be featured on Hard Knocks, the show produced by NFL Films and HBO to give fans a reality-show look at coaches and players inside training camp.
The subject was so lively yesterday, Joe will flush out a couple of important things brushed over.
Hard Knocks is riveting television, especially in late summer when there is nothing on but skunky preseason football and baseball and baseball and baseball and baseball.
(Joe covers Bucs preseason games because it is his job. If Joe didn't have this here site on the Interwebs, you couldn't put a gun to Joe's head to watch every snap of preseason football.)
First, Joe is neither for nor against the Bucs appearing on the show. If it happens, it happens. Normally (keyword there), Joe would be hesitant when a team is breaking in a rookie quarterback. However, "America's Quarterback," Bucs signal-caller Jameis Winston, is a different cat. Hard Knocks for him would be a distraction about as significant as a water break.
Remember, as a 19 year-old kid, Jameis endured pressure that makes just about anything else pale by comparison. At one point, because of allegations against him, Jameis didn't know if he would be on Florida State's football team, didn't know if he would still be enrolled in college, didn't know if he would be behind bars and have his promising life left in ashes. It was all out of his control.
And how did he respond? He put Florida State on his back, led the team to the national championship and won the Heisman Trophy along the way.
That, friends, is very impressive, and it was to the Bucs. The team stated several times it liked how Jameis handled pressure so calmly.
So compare all of that to extra cameramen at practice for a few weeks? There is no comparison.
And as far as this nonsense of a distraction that Hard Knocks creates, Joe calls BS. Per Wikipedia (yes, not the best source), during the 10-season run of Hard Knocks, four teams went to the playoffs and a fifth team, Dallas, finished with a winning record.
Really? So half the teams in Hard Knocks have winning seasons? So tell Joe exactly how this is such a horrible death knell? Given the records of teams highlighted, the Bucs ought to be begging to host the damn series.
Let's be real here: The Bucs have yet to win a playoff game since January 2003. Can't blame that on Hard Knocks
Oh, and how did the Bucs ever finish with the worst record in the NFL last year without the aid of hosting Hard Knocks? As Joe's old high school coach once told him, "Distractions are distractions if you let them be distractions." Sort of an early version of Bill Belicheat's, "Just do your job" mantra.
Distractions are a cute excuse for paranoid types and lesser minds.
Joe will guess that if a team blames December losses for a few extra camera crews at training camp, then that team has much bigger issues.