Top 5?
May 22nd, 2015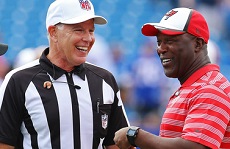 Optimism is cooking at One Buc Palace, and it has nothing to do with Jameis Winston.
Defensive numbers look good and coaches are talking, even if the last Buccaneers head coach with a winning record lectured, "Stats are for losers."
When Leslie Frazier talked to Joe and other media types this week, he was pleased to say there is lots of hope attached to the Bucs' defensive performance of last season.
"When you look at those last 10 games of the season and you see that we finished in the top five in almost every category group, including points, that's what gets you excited," Frazier said. There are some things we can build on. We are expecting the guys that are coming back to really improve."
Ok, raise your hand if you think the Bucs looked like they had a top-5 defense through nine of the final 10 games last season. (No reason to count the Choke for Jameis finale.)
Joe's hand is down. The eyeball test doesn't put Tampa Bay in the top 5 through those 10 games. In fact, the eyeball test doesn't put the Bucs in the top 10 or 15.
But the numbers, Joe? The data. Frazier mentioned the stats. What about the data?
With apologies to the stat lunatics, Joe recently re-watched the Bucs-Panthers game on Dec. 14. The Bucs only allowed 19 points in the loss. That's great, but the reality is the Panthers and the immortal Derek Anderson marched the ball up and down the field repeatedly. There were no explosive plays by Carolina, just flat out winning on offense, balanced by 32 carries for 132 yards.
That performance came a week after the Bucs didn't show up in Detroit, a 34-17 loss and one of the best days of Matthew Stafford's career.
The week after Carolina? Aaron Rodgers on a bad calf was 31-of-40 for 318 yards against Tampa Bay, while Green Bay broke a long run and was 6-for-13 on third down.
Like Frazier, Joe is optimistic the Bucs defense will be better, even win a game or two for the men of pewter. But Joe's not expecting anything miraculous. There's no top-5 music dancing in Joe's head. Joe would be very pleased if Tampa Bay's defense was ranked in the top-half of the NFL — and actually looked like a top-15 defense — something it hasn't done since 2008.
Lovie Smith and Frazier need to accomplish that this season. No excuses.