George Warhop Likes Donovan Smith
May 12th, 2015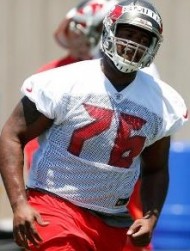 While he was quick to point out yesterday that unless otherwise notified, second-year tackle Kevin Pamphile is the starting left tackle, Bucs offensive line coach George Warhop didn't mean the 34th pick in the draft, Donovan Smith, is in the doghouse.
On the contrary. Warhop likes Smith but admitted Smith isn't going to be gifted a starting job, just because. He has to earn it.
When Joe and the rest of the Tampa Bay pen and mic club got a chance to talk to Warhop, he said Smith has the tools to be a successful left tackle. Someday.
Playing left tackle "is definitely a big challenging position," Warhop said. "For your left tackle, you want a guy that is smart, you want a guy with size, a guy with range, you want a guy with athleticism. The best guys I've been around have all had that. He's got size. He's very, very bright. He's very athletic. We are putting in a lot of stuff. I don't know about a true mistake he has made so far. So far he has a good start.

"When you watch his college tape, when he played against the good players, he played better than good. I mean he played really well. The better the competition the better he played. He is going to see that every week. Some of these guys that were high draft picks that he went against in this draft, he got after them very well, so we are excited about it. He's not going to back off in those situations."
For Joe, it is good to know that Smith always rose to the occasion when met with a challenge. Like Warhop said, that's going to happen each week in the NFL.
Still, Joe can't get over the fact the Bucs are shoving all of their chips to the middle of the table, betting a rookie left tackle can keep America's Quarterback, Bucs signal-caller Jameis Winston, in a clean jersey. It is not a comforting thought.