Chucky: "I Almost Jumped Back"
May 14th, 2015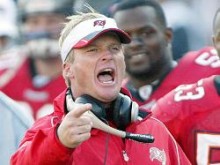 The Bucs' Super Bowl winning head coach, the man who retired from coaching after Team Glazer showed him the door six years ago, says his wife prevented him from diving back into the NFL ranks.
Speaking on WDAE-AM 620 today, during Ronnie and TKras, Jon Gruden was asked whether he's going to be an NFL coach again someday.
"I don't know. I was at the edge of the pool looking in. I almost jumped back in this offseason," Chucky said. "But my wife had control of me by the back end, so I haven't been able to jump, but I love what I'm doing."
For those who have followed Chucky's desire to keep his name alive for potential head coaching jobs, this might be the strongest language yet that Chucky wants to return to the NFL sidelines.
So what team made Chucky almost jump back in? Atlanta? The Jets? That's a fun argument, unless Chucky is just blowing a bunch of hot air.
You can hear Chucky's full interview below, via the WDAE-AM 620 audio player.