Stellar "Sudden Impact" Review
May 14th, 2015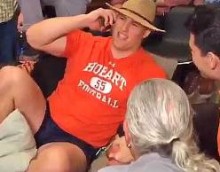 Is it possible that an analysis and ranking of 100 impact NFL rookies would include six new Buccaneers?
Joe had to read it twice.
Yep, that's what was written. Chris Fischer, a college football writer for NFL.com, dove deep into the 2015 draft class and believes the Buccaneers' first six picks will all make their mark — a positive mark — on the NFL in a matter of months.
Damn, wouldn't that be a glorious kick in the ass? Joe might host a Jason Licht appreciation banquet if such a happening occurred.
Of those 100 ranked rookies, here's where Fischer put the Bucs on the list.
1. QB Jameis Winston, Tampa Bay Buccaneers: Bottom line — nobody in this draft class will have a greater impact on their new team than the guy under center for Lovie Smith.

51. OT Donovan Smith, Tampa Bay Buccaneers: The Bucs' line was a mess last year and Smith could be part of the answer in protecting Winston.

66. WR Kenny Bell, Tampa Bay Buccaneers: There's no reason why the savvy and smart Bell can't be the top receiving option for Winston out of the slot as a rookie.

78. WR Kaelin Clay, Tampa Bay Buccaneers: Instant boost to the team's return game while rotating in as a slot receiver who can help stretch the field.

86. G Ali Marpet, Tampa Bay Buccaneers: The front office is excited about Marpet's ability. He could protect Winston sooner rather than later for a team that has been searching for help on the interior line.

98. OLB Kwon Alexander, Tampa Bay Buccaneers: Athletic, rangy linebacker should be a core special-teams player while being molded by Lovie Smith into a quality player.
Of course, as a 2-14 team, the Bucs are counting on rookies more than most clubs. So it makes sense this rookie class will have plenty of opportunity to impress.
Noteworthy here is the love shown Kenny Bell, and the low grade for Donovan Smith, when compared to where they were drafted.