Smith: Koetter Will Help A Lot
May 14th, 2015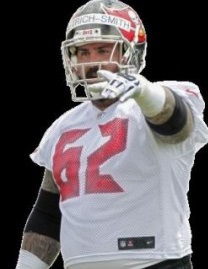 Does Joe really need to recount how miserable the offense of the Bucs was last year?
Virtually no running game. No quarterback. Defenders blowing through the offensive line like a cattle stampede.
Of course, it was too easy to blame everything on ill-suited acting offensive coordinator Marcus Arroyo. After all, he wasn't doing the (lack of) running, the (lack of) blocking and wasn't throwing the ball to different colored jerseys.
Earlier this week, new Bucs offensive coordinator Dirk Koetter all but waved off any notion that a scheme can fix a poor offensive line. It doesn't seem Evan Smith totally agrees.
Last week, Smith noted how much better the offense is under Koetter, documented Pat Yasinskas of ESPN.
"We have a guy that when we sit in the offensive meeting room, who is going to get up and make his presentation, but it's his deal," Smith said. "He's in control, he's calling the plays. I like it. I really do like his offense. It's good. He has had a lot of success with it. The biggest thing is having that leader. If you have a question and your coach can't answer it, he can answer it."

The Bucs ranked 30th in total offense last season. Smith said Koetter's arrival should improve that.

"Honestly, for me, that's the biggest thing — having someone that can point the ship in the right direction, so you're not just out there sailing with no real navigation," Smith said. "The guy has it wired pretty tight with what he wants to do. A lot of it is just learning his language. We aren't really running anything different, but it's more organized, more in-depth, more detailed and he is really on top of that, and that's what I like about the guy."
Time will tell if this organized offense magically sees running lanes opening up or allows "America's Quarterback," Bucs signal-caller Jameis Winston sufficient time to be able to read a defense.
If the blocking doesn't show up again this year, then blaming the coordinator will sound awfully hollow given Koetter's resumé.
Koetter ain't Arroyo. Not by a long shot.