Bennett Slaps Plan; Advises Team Glazer
May 23rd, 2015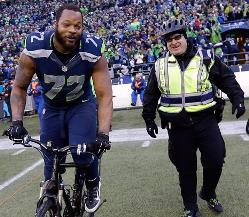 Former Bucs defensive end Michael Bennett has advice for Team Glazer.
Yes, the team that let Bennett walk for no good reason was the recipient of free counsel from Bennett himself.
Amid talking on Portland sports radio about how he is trying "to work on it every single night" to provide the world with Michael Bennett, III, the guy who finished the last two seasons in the Super Bowl explained the difference between playing for Tampa Bay and the Seahawks — how the Bucs can change their ways.
"Yeah, [there is a] difference with the fans, 'cause [the] stadium is not packed at all [in Tampa Bay]," Bennett said. In Seattle, fans are "in the game, [Seattle] fans are so crazy. There is a difference in the organization. Tampa believes in free agency as a way to build their team, and not developing players. I think Seattle is just the opposite. I wish Tampa would do more of that. I think they would have more success."
Well, apparently, the Bucs didn't do enough. It seems the Bucs sorely could have used the services of players deemed unfit for the squad like Bennett, like Darrelle Revis, like Donald Penn, like Jeremy Zuttah.
Come to think of it, perhaps it was best the Bucs ran off these productive players. If they had kept them, then the Bucs would have lost the Chase for Jameis.