Would Demar Dotson At LT Backfire?
April 6th, 2015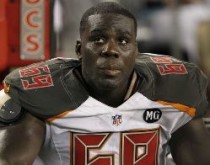 Caution: This is another in a long series about the offensive line of the Bucs. Naturally, it is not pleasant. Read at your own peril.
So as it stands, the rotten Tampa Bay offensive line is no better. Last seen, it was so frightening Freddie Krueger had an accident in his pants watching it.
There is a hole at left tackle with the jettisoning of Anthony Collins, and there is a hole with the departure of guard/tackle Oniel Cousins, who made seven starts (Yes, a cynic would say there are other holes).
While fielding questions from Twitter about the Bucs, Pat Yasinskas of ESPN.com answered a question about Demar Dotson. The Bucs' right tackle, who Joe has professed is OK but no Dan Dierdorf, might be moved to left tackle, a position where he has scant experience. A Bucs fan wondered why experiment like that with Dotson when he led the NFL in penalties at right tackle.
That's an excellent question. Demar Dotson has had problems with penalties and putting him at left tackle could make those issues even worse. But it still is not a given that Dotson will move from right to left tackle. He may stay on the right side and the Bucs may use their second-round pick on a left tackle.
Dotson is not a Pro Bowler at right tackle. He's OK. Keep him there. At least that position is set. Dotson may just melt down at left tackle, and then who do you play then at right tackle? In a sense, the Bucs could be creating two problems trying to fix one.
Joe isn't fond of players learning new positions at the NFL level. Just ask Garrett Gilkey.