WInston-VJax Meeting Not Staged
April 28th, 2015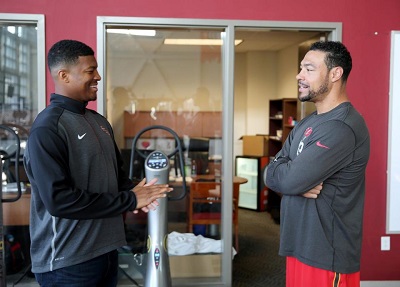 When the Bucs paraded Jameis Winston around One Buc Palace in March, the multimedia wing of Buccaneers.com made sure to play it up big time. And it got a lot of run.
One photo released of Winston was his meeting with wide receiver Vincent Jackson. It smelled planned.
Not so, said Jackson, who called the skin-slapping a chance encounter.
"It was kind of random, actually," Jackson said. "I was just here working out and he visited. I was in the weight room and he was walking around touring the facility and [Bucs officials] introduced him to me.

"We talked for about two minutes. Wasn't very long at all. Nice kid. Seemed bright. Obviously, it is a very exciting time of his life with all the traveling and that stuff."
Of course, there is always the chance the Bucs trade the pick and Winston goes elsewhere. So it is not set in stone Winston is coming to town; only a 99.9 percent chance. Jackson was careful not to discuss Winston as a teammate quite yet.
"He's a very talented player," Jackson said. Winston has had a "special career winning the national championship. That is something to recognize. Lot of respect for his game.
"Any time you can add great players it will help you. I ill try to help with the learning curve as much as I can, whoever comes in."
Jackson beamed when he was reminded of the "Game Changers" episode on the NFL Network when, with Steve Mariucci, Winston diagrammed a play on the greaseboard and pointed to a receiver and said, "I hope that is Vincent Jackson."
"I heard about it," Jackson said with a huge smile. "That's pretty cool. [Winston's] mindset is to get ready for that next level."