The Ultimate Wild Card
April 26th, 2015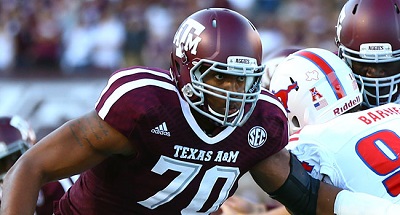 Would the Tampa Bay Buccaneers dare draft a stud left tackle prospect who is coming off a blown ACL less than five months ago?
A renowned draft guru thinks so. That would be former scout and current NFL Network draft freak Daniel Jeremiah. In a recent two-round mock draft, Jeremiah pegged Texas A&M tackle Cedric Ogbuehi as the Bucs' second-round pick, No. 34 overall.
"Probably a top-15 pick if he doesn't get hurt at the end of last year," Jeremiah said of Ogbuehi. "You could make a case he's the most athletic tackle in the entire draft."
Ogbuehi, 23, played guard and right tackle at A&M before moving to left tackle last season. At 6-5, 305, he's got the size, explosiveness and good feet to be versatile. Ogbuehi was projected as a first-round pick last year but opted to return to college for his senior season.
He blew out his knee in the second half of the Liberty Bowl. There's a reasonable chance he will miss at least half of the 2015 season.
Man, Ogbuehi would be a huge gamble for the Bucs that early in the second round. Picking him would almost force Tampa Bay into drafting an offensive lineman with their next pick.
Four years ago, former Bucs general manager Mark Dominik famously proclaimed that the Bucs know knees, meaning they know how to manage and evaluate dudes with knee issues.
Joe would prefer the Bucs leave shaky knees to other teams, or save the question-mark picks for later in the draft.