Mike Glennon Till The Bye Week?
April 26th, 2015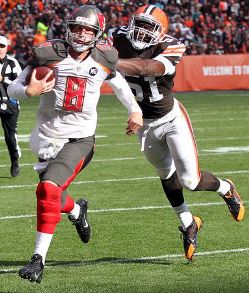 "Football doesn't really begin until November." — Lovie Smith, October 30, 2014
Lovie Smith proudly delivered the above quote, so Joe must wonder whether Lovie will force a 21-year-old rookie quarterback into the fire when the Bucs have a bye in Week 6 this season.
What would be the hurry? Tampa Bay gets plenty of rest and practice time after its Oct. 11 home game against Jacksonville, and Jameis Winston could jump in after that.
The season doesn't really start until November anyway, right?
Joe thinks the Bucs should just hand Winston the rock and declare him the starting quarterback before training camp. But Lovie might have other ideas. The man is very unpredictable when it comes to personnel.
Making Winston the backup initially would take pressure off the kid and off the head coach. Joe sees the potential value there. But the problem is Lovie and Jason Licht keep talking about being "on the verge" of winning and competing for a division title. And Joe has to believe naming Winston the starter out of the gate would make the team more ready to win come January.
There's also that glorious hypothetical of starting Mike Glennon until the bye week, and the Bucs get to the bye with a glorious 3-2 record — actually winning a couple of home games! Then the head coach couldn't pull No. 8 without starting a revived Mike Glennon Mob revolt.