Still Second Best
April 26th, 2015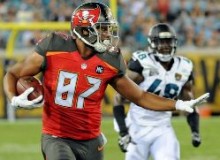 The Buccaneers stunned the NFL and Bucs fans last year, drafting tight end Austin Seferian-Jenkins in the second round.
"The Dunkaneers" were born. But they died prematurely when Josh McCown played quarterback like a six-year-old girl playing Wiffle Ball.
The surprise in drafting Seferian-Jenkins was because the Bucs didn't need a tight end, but Lovie Smith and Jason Licht couldn't believe Seferian-Jenkins was still available, so they pounced on the big playmaker and later traded Tim Wright.
After a season filled with injuries, including a bad ankle sprain on opening day, Seferian-Jenkins returns for his second season.
He was the second tight end drafted last year, and NFL.com's Marc Sessler says that was where the manbeast from the University of Washington belonged.
Still, ASJ's 6-foot-5, 262-pound exterior gives Bucs passers a massive target. His work against the Ravens in Week 6 might serve as an appropriate preview of what new coordinator Dirk Koetter has planned for 2015. Against Baltimore, Seferian-Jenkins caught a tough 14-yard ball in traffic before, one quarter later, splitting Ravens defenders down the middle to take a Mike Glennon pass for 30 yards. He's strong enough to blast past initial blockers into space and fast enough to win one-on-one battles.

The Bucs employed Seferian-Jenkins on plenty of crossing routes while also trying to set him free downfield. More than once he dominated smaller defenders up the seam.

Final analysis: Can he stay healthy for a full season? If he does, will Tampa put a functional quarterback under center?
Hopefully, Koetter will know how to maximize Seferian-Jenkins' massive skillset. But really, Seferian-Jenkins just needs to stay healthy and he'll be fine. That's his challenge.
Joe watched Seferian-Jenkins stand out in so many practices, and display his talent in games. But like every other player, he's worthless when injured — and while getting dumbass Captain Morgan penalties.