The Godfather Explains "The Factors At Play"
April 15th, 2015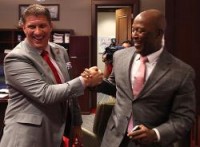 It's horrible that Father Dungy is buzzing Lovie Smith's ear, trying to get him to pass on Jameis Winston while fueling the trade-down fires.
But at least a highly respected voice in NFL personnel is speaking logically.
Scouting legend Gil Brandt, aka The Godfather, the architect of the legendary Cowboys teams (pre-Jimmy Johnson), remains employed by the NFL and SiriuxXM NFL Radio.
Typing on NFL.com today, Brandt unleashed a reasoned rant that should be scrutinized by all Bucs fans.
2) Tampa Bay Buccaneers

The Bucs have so many needs that they conceivably would be better off trading out of the first overall slot and acquiring as much extra talent as they could. Even so, that strategy is not without risk, including the fact that any future first-rounders received would be tied to the fortunes of Tampa Bay's trading partner; consider that if the Bucs were to swap with a team that happened to do well in 2015, they could essentially wind up turning their No. 1 pick into one or more slots in the high 20s, which are not nearly as valuable. The other factor at play: Tampa Bay has a chance to grab a potential franchise quarterback this year, and when you have an opportunity to do that in this league, you have to take it, especially with a less-than-inspiring group of quarterback prospects on the horizon for 2016.

Of course, the guy the Bucs are likely to select — Jameis Winston — is difficult to figure out. When players fail in the NFL, it often ties back to off-the-field issues, and Winston obviously comes with his share of questions. But then, you also hear that he has great work habits, plenty of smarts and above-average football intelligence. This is looking like a turning point for the Bucs' franchise one way or another; their pick could lift the team into the stratosphere or set the organization back three years.
Brandt really nailed the key elements, especially questionable future QB crops.
Trading down is risky. But what's more risky is trying to win in the NFL without a great quarterback.
Joe's been blabbering for more than a year that the Bucs will never win a Super Bowl with the fourth-best quarterback in the division, or fifth-best, as was the case last year. That's right. Never! Mike Glennon does not have the talent to surpass other NFC South starters.
So the Bucs have to go for it in 15 days. Draft the quarterback most ready to get the franchise on its way back to glory.