Buccaneers Praised For Draft Gamesmanship
April 16th, 2015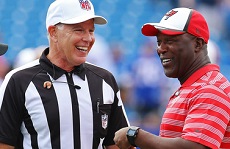 Those loveable Bucs couldn't win a home game last year, but dammit, they pulled off one heck of a draft misdirection.
Are they doing it again?
Joe sure hopes not. Jameis Winston should be slinging balls around Bucs rookie minicamp in a few weeks.
But we're in the time of year when hyper-bananas fans and media go all X-Files about teams visiting with players and/or working them out, as if it really means a lot.
Robert Klemko, of TheMMQB.com, astutely noted that outside of the three QBs drafted in the first round last year, most of the remaining first-round picks did not spend special private time with their eventual teams. That included Bucs stud rookie Mike Evans.
"…Only 16 of the remaining 29 first-rounders had pre-draft visits with the clubs that chose them. Among those who weren't invited to the top 30 party of their chosen teams: Fifth-overall choice Khalil Mack (Raiders) and the seventh pick, Evans (no doubt an effort by the Buccaneers to convince the world they'd pick a QB). Eventual Chargers first-round pick Jason Verrett spent the offseason working out in San Diego, several miles from Chargers park, and didn't communicate with the team between the combine and the day they drafted him 25th overall. And yet, reporters continue to break news of leaked visit plans as if it means something. I got in on the shameful practice the other day and I still feel dirty about it."
Klemko talks about how the Bucs' gamesmanship entertaining quarterbacks like Johnny Football and Derek Carr at One Buc Palace last year, guys they never planned to draft, earned them respect in NFL circles.
Joe couldn't read that without marching to Walgreen's for anti-diarrhea medication.
The thought of the Bucs not drafting a quarterback — again — is too much to bear, though a move like that by Lovie Smith would not be shocking. Even Father Dungy said so.