Father Dungy Talk Of Lovie Trading Down
March 27th, 2015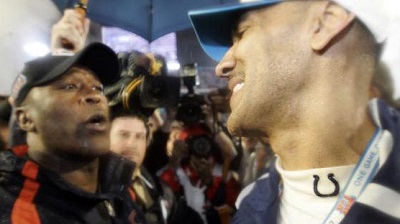 Those with heart conditions, stomach disorders, and/or violence issues while under stress should not keep reading.
Last night on ProFootballTalk on NBC Sports Network, there was talk of Lovie Smith trading the No. 1 overall pick. But it wasn't just idle speculation.
The banter came from ProFootballTalk.com guru Mike Florio, friend and NBC colleague of Tony Dungy, one of Lovie's friends and mentors.
"You never know who's going to blow you away with a trade offer that you can't refuse," Florio explained. "I recall Tony Dungy, who previously worked with Lovie Smith in Tampa saying, 'You know what? Lovie may be inclined to trade down if he can get a lot of picks and address a lot of areas. Lovie may not be convinced he needs a franchise quarterback to win.'"
So is Father Dungy really communicating regularly with Lovie? The answer is, "Yes." Lovie told Joe and media on Wednesday morning at the NFL Owners Meetings in Phoenix that "I've had a few conversations with Tony, to say the least." The context was that Father Dungy has been in Lovie's ear about the virtues of drafting QB Marcus Mariota.
Lovie also left the door open to the trade-down route, saying, "There are mega deals that have come up. So that's why you just can't … you have to keep your options open."
Yes, the thought of trading down and denying destiny — aka drafting Jameis Winston — makes Joe ill. But this is not a new concept for Joe. Lovie has proven to be very unpredictable when it comes to personnel.