Team Glazer Trusts Jason Licht
April 27th, 2015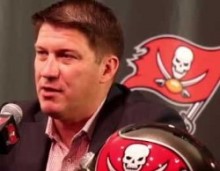 In an article typed by NFL Network insider Steve Wyche, who is currently embedded at One Buc Palace as the stopwatch counts down to Jameis Winston the first pick Thursday night, Bucs general manager Jason Licht shed light on what is going on behind the scenes at draft headquarters.
In short, Licht has a high ransom for the No. 1 overall pick in the draft and says teams have called him about a trade but there's nothing concrete, Wyche noted.
Wyche reported the ransom for the pick would be "extraordinary," as the Bucs have their sights on Florida State quarterback Jameis Winston. Specifics on the ransom were not detailed.
But there is more. Explaining the rigorous research and vetting the team has done on Winston, Licht says Team Glazer is all in.
Members of the Glazer family, which owns and operates the franchise, have been involved in numerous conversations with Licht and Smith regarding the vetting of draft prospects, including Winston. They have been given information the team has collected on players, Licht said.

Licht added that ownership is comfortable with the team's findings and that ownership has not dissuaded them from drafting any particular player.

"They have called multiple times and told us 'We trust you,'" Licht said. "They have all the information and said they are 100 percent behind us. We know we have their support."
It seems the only thing that could derail this is if someone wigs Winston today at the Derek Brooks Charities golf tournament. But surrounded by fellow ex-stars from his alma mater like Brooks and Deion Sanders, and having all sorts of current and former Bucs around as muscle, it is unlikely Winston would make any public scene today.
After that, Winston will be enveloped by shielding family in Alabama for the rest of the week.
In a matter of hours, Winston officially will become the savior of the Bucs.
As Bucs announcer Gene Deckerhoff once said, "Celebrate, Bucs fans. Celebrate. Dance to the music."