Drama, Emotion, Work Of NFL Draft
April 27th, 2015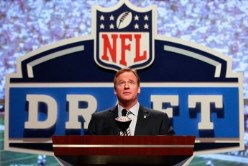 In a little over three days, the Bucs will have a new player — well, hello Jameis!
Given that Jameis Winston the player likely will be the first player selected in the draft, barring a trade, there will be a lot of pressure on the young man's shoulders.
In a pretty cool video produced by Buccaneers.com, various Bucs, past and present, are interviewed and share their memories of the draft. The emotions rode high and the curves were unexpected. A cool piece is how Mike Alstott explains Bucs fans should adore Jerome Bettis because if not for Bettis, Alstott very likely would not have come to Tampa Bay.
It is weird seeing Derrick Brooks with a gray beard.
Both Bucs general manager Jason Licht and Bucs coach Lovie Smith explain just how much research goes into the draft. It's a cool video you should check out.