Team Glazer Split On Winston?
April 9th, 2015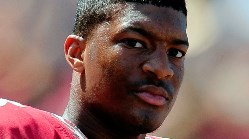 At the NFL Owners Meetings last month, Buccaneers co-chairman Joel Glazer told Joe how comfortable he is with Jameis Winston as the next quarterback of the Bucs, if that is who general manager Jason Licht and head coach Lovie Smith want.
However, NFL insider Charles Robinson of Yahoo! Sports, who has solid sources, writes today there may be discord within the ranks of Team Glazer.
First, general manager Jason Licht and coach Lovie Smith won't have the final say on drafting Winston. The source said the selection won't happen without the approval of ownership. Second, the source said Darcie Glazer Kassewitz (the daughter of late owner Malcolm Glazer) is one of the voices in the Bucs' front office whose opinion could influence the pick.

The source did not say Kassewitz was against drafting Winston. Nor did the source say Mariota or any other player was preferred at No. 1. But the source said that Kassewitz – who is the co-president of the Glazer Family Foundation – has raised some internal questions about the community relations impact of the pick.

That could mean little. But at the very least, an important person in the Glazer's inner circle will be looking as much off the field as on it when it comes to the Winston selection.
Joe's first reaction — and he wasn't the first — was, how has being the laughingstock of the NFL been for community relations?
There is too much time between the end of the Super Bowl and the draft and people are starting to go nutso with the down time. Overthinking, perhaps.
Joe was communicating with a trusted NFL source yesterday and was told, basically, what Bucky Brooks Twittered yesterday, that there are no "risers" or "fallers" in April, certainly not in the early stages of the NFL Draft, unless NFL security or a doctor finds something (hello, Randy Gregory).