"Tampa Bay Buccaneers Track Team"
April 25th, 2015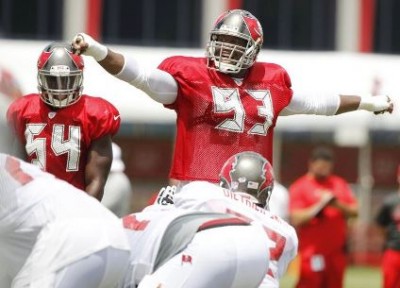 Earlier this week, Gerald McCoy told Joe and other local scribes about doubling down on his intense offseason workouts.
But he expanded on that to his hometown newspaper, The Oklahoman.
The face of the Buccaneers explained that Lovie Smith's defensive philosophy drove him to kick things up a notch, as did a desire to succeed as a leader.
"Whether it's the Chicago Bears or the Tampa Bay Buccaneers, it should've been the Chicago Bears track team or the Tampa Bay Buccaneers track team, especially on the defensive side of the ball," McCoy said. "Because all we do is run, run, run. That's what the Tampa 2's about. You run, run, run and when you're tired, you run some more."

McCoy said he expects to see his work pay off this season.

"At the end of the game, when you're in a two-minute drill, somebody has to step up. You can't say, 'Oh, I was tired.' You don't have a chance to be tired," McCoy said. "We need somebody to make a play. At those times, people look to me to be that guy and that's all I'm trying to be.

"If you're in top physical shape, you don't have to worry about that. Fatigue is not an issue. You can focus on what you have to get done. That's what I'm trying to do, take away something so I can focus on something else. If fatigue is not an issue, that means I can put focus onto what pass-rush move I'm going to use, what offense I'm facing, helping the guy next to me."
This intrigued Joe. It almost implies that McCoy wasn't as prepared physically as he wanted to be last season. And how could he have been? Lovie came in as a new head coach with a fresh set of demands.
Joe hopes others have followed McCoy's lead, and Joe expects McCoy might be spiritually uplifted by not being around the likes of disinterested Michael Johnson.