Looking Back At Offseason Moves
April 25th, 2015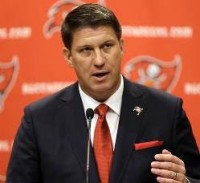 Tampa Bay made a bunch of offseason moves. Many more to come with next week's draft.
The Bucs didn't pull off any major news. No big fish were landed in free agency. After the Bucs burned through tens of millions of Team Glazer cash with bums signed last spring, it was probably a smart move.
In this TBO.com video, TBO's Oliva Stacey and Woody Cummings of the The Tampa Tribune discuss the signings and the goodbye waves made this year.