"I Think It's Rude"
April 25th, 2015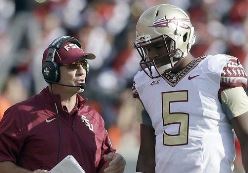 Sure, Joe read the nonsense peddled by an unnamed NFL personnel executive to renowned Packers writer Bob McGinn, the stuff that claimed Jameis Winston is the next JaMarcus Russell, one of the greatest quarterback busts of all time.
A former general manager, a Marcus Mariota backer no less, is now on record ripping McGinn's report.
The ex-GM blasting the Russell=Winston baloney is none other than Mark Dominik. The former Tampa Bay rockstar general manager works for ESPN and took to The Sedano Show airwaves last night. When asked about the report, Dominik let loose.
"I think it's rude. I think it's completely offbase to call him JaMarcus Russell," Dominik said of Winston. "I just don't see the comparison. Look, if you want to say one thing about Jameis [as a football player], the only thing I'd sit there and say is at the end of the season, he lost 17 pounds to go to the combine. I didn't like that. You know, because I'd like to think he's playing as well as he can all the way through the bowl series and then getting himself ready for the combine, instead of having to get himself in shape. But from a football standpoint, from a football intelligence, from a competitor, from a leader, it ain't close. It's embarrassing. For my personal opinion, whatever GM said that, probably should not be a GM, quite frankly."
Yes, the Russell comparison won't stop anytime soon. It's easy pickings for the haters. Just lazy analysis on many football fronts.
Ironically, one of Russell's greatest games changed Bucs history. It was Russell who threw two touchdowns and completed two-thirds of his passes against Tampa Bay to close the 2008 season. The loss knocked the Bucs from the playoffs and got Chucky fired.