"Stick Them In There And Leave Them In There"
April 17th, 2015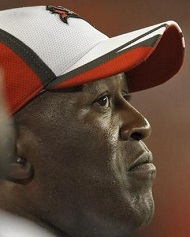 A seven-year starter on the Buccaneers offensive line, Ian Beckles (1990-1996) knows a thing or two about the subject of O-line play and development.
Yesterday, he offered a strong take on the aftermath of the Buccaneers' 2015 draft.
Speaking on the Ron and Ian show on WDAE-AM 620, Beckles shared his frustration with the Bucs giving inconsistent play to young offensive linemen last year, such as rookie Kevin Pamphile, and having Patrick Omameh rotate at right guard for a stretch with Garrett Gilkey.
Beckles is confident the Bucs will rebuild/reload their offensive line via the draft, and he wants to see those players dive into their roles and get a chance to develop.
"Stick them in there and leave them in there," Beckles implored.
Beckles pointed to the career of center Tony Mayberry. Tampa Bay's 1990 fourth-round pick got a sniff at the starting lineup in his rookie year, and then Mayberry didn't miss a start until retiring in 2000, after three Pro Bowls in his final three seasons.
Beckles himself was a 16-game rookie starter as a fifth-rounder in 1990.
The point was offensive linemen must play to develop.
Joe believes the Bucs are looking to draft starters on the offensive line. Why else would they do nothing at the position this offseason, other than ousting Anthony Collins and Oneil Cousins?