Now It's Time To Protect Winston
April 30th, 2015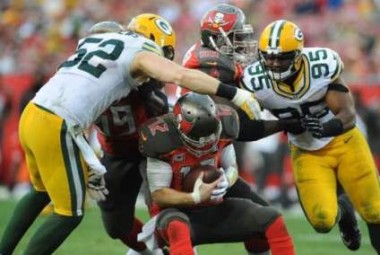 Euphoria is sweeping the streets, from downtown Dunedin, to New Port Richey, and even in the blueberry fields of Plant City. Jameis Winston is a Buccaneer!
Now it's time to keep him out of a body bag.
The Buccaneers' offensive line was downright scary last year. It was good enough to churn out hundreds of yards on the ground through the first two games of the season, and damn good enough to win those games, but then the wheels came off.
The expected jelling turned into diarrhea.
And what did the Bucs do in free agency? Nothing. They saw no need to inject fresh blood or competition into the mix. All they did was cut Anthony Collins and Oneil Cousins, two guys who remain unemployed. (No surprise)
It was a massive telegraph that Tampa Bay has to add offensive linemen in the draft — and quickly.
The Bucs need a lot more than good barbecue to protect Winston, despite what Logan Mankins might say.
Keep it locked on the rest of the draft's first round. Given the situation on the O-line, the Bucs might get antsy and pull the trigger to trade up and back into the first round.
Please, Bucs. If you believe you have a can't-miss O-lineman in your sights, make it happen. You owe it to Jameis.