Silly Glazer Talk
April 19th, 2015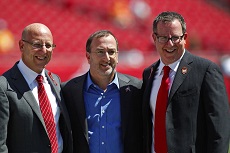 Team Glazer owns the Buccaneers, a company worth $1 billion, give or take a few shekels. So absolutely Team Glazer is making decisions on impact draft picks and big-money free agents.
To think otherwise would be pure silliness.
What's important to remember is that an ownership group rolling with its personnel team's evaluation is still making a decision.
It's all a pile of semantics. The Bucs will be drafting players approved by Team Glazer. Period.
In a feature story about Team Glazer and the draft penned by eye-RAH! Kaufman, of The Tampa Tribune, Kaufman takes a long, insightful look at how Team Glazer approaches the roster.
Kaufman even quotes Bucs general manager Jason Licht celebrating his freedom.
"Like Mr. Kraft, the Glazers give us anything we need,'' Licht said. "Lovie and I often say to each other how lucky we are to work for a team where the owners never tell us who to draft, who to sign and never give us directives on who to cut. Yes, they ask questions, but I don't think there's a GM in this league that can do whatever he wants.''
Joe believes Licht, but at the end of the day, decisions belong to Team Glazer. They've also held themselves publicly accountable for all things Bucs — good and bad.