"More Excited After Watching The Tape"
April 23rd, 2015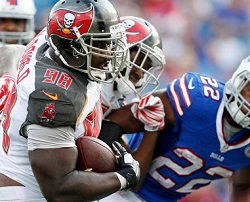 New Bucs free agent defensive end George Johnson said this week that he's happy to be in Tampa but "more excited after watching the tape."
Of course, Joe had to ask Johnson what he was seeing on film.
"Just the one thing that they got. Each and every player on this team just plays with so much effort," Johnson said. "We were just watching the tape. You know, I see guys running down the ball, running down the field 20 yards down the field. A nose tackle making a tackle, or picking up a fumble, or getting an interception. You know, just something like that, you can't teach anywhere. You can't teach the effort. And that's the one thing that I really like about this whole defense. It's not about the scheme. It's about how the guys just play."
This told Joe the Bucs play harder than the Lions, Johnson's former team. But Joe really can't read much more into it.
Johnson, who had a bottom-of-the-roster role with the Bucs under Raheem Morris and Greg Schiano, went on to say team unity and attitude is much healthier now than what he experienced previously.