Mariota Knows He Does It All
April 23rd, 2015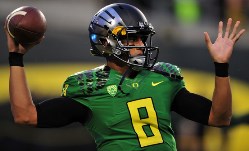 Joe chatted off the record with a decision-maker for a team other than the Bucs at the NFL Owners meetings last month.
The discussion was about Marcus Mariota, and Joe asked about the typical Mariota concerns.
Draft junkies have heard them over and over: Mariota hasn't had to read defenses or call plays. He hasn't played in a pro-style offense, so he's a projection at the NFL level. He hasn't been called on to make many anticipatory throws, etc.
The NFL executive used the term "ignorant" to describe anyone who doesn't think Mariota has the skills, smarts and experience to transition very quickly to any NFL offense.
It was a powerful word from a very powerful, knowledgeable guy.
Mariota himself was asked about his knocks on SiriusXM NFL Radio yesterday. Co-host Jim Miller laid out the case of the naysayers. And Mariota didn't give them any credence.
"Again, it just comes down to people's opinions. Within our [Oregon] system we know we have to make decisions, we know we have to be able comprehend what we're seeing in terms of reading defenses and understanding what type of front these defenses pose against us," Mariota said.
Joe knows the Mariota Gang is alive, strong and antsy in the Tampa Bay area. They just can't believe the Bucs might be so ignorant to actually draft Jameis Winston in seven days. Most Bucs fans would rejoice if Winston's name is called, but the Mariota Gang might just lose their minds.
You can hear more of Mariota below, via the Sirius audio player.