The Bucs' Best Back
April 26th, 2015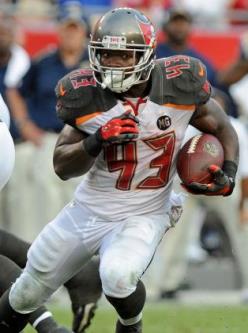 Yes, the other day running back Bobby Rainey signed the offer sheet Tampa Bay put in front of him weeks ago.
But how will the Bucs use him?
Rainey is diverse. He can catch, run, and some believe he can be a strong returner.
Typing for Buccaneers.com, Joe Kania types ways the Bucs could intelligently utilize Rainey.
Rainey has rushed for 100 yards on three different occasion during his two seasons with the Buccaneers. In Week 2 against the Rams, he carried the ball 22 times for 144 yards. The pervious season, he ran for 163 yards and 127 yards in Weeks 9 and 12, respectively. Rainey is expected to compete for carries in the Bucs' backfield in 2015.
Joe is confident Rainey is the team's best back right now and should be used accordingly. But Joe knows Rainey is not Lovie Smith's kind of guy.
Rainey found himself in the penthouse of Lovie's outhouse due to fumbling. But the last time Rainey put the ball on the ground was in the wood-shedding the Dixie Chicks stomped on the Bucs back in September. So pardon Joe if he thinks that fumbling was just an excuse to bench Rainey.
Until or unless Chosen Son Charles Sims outplays Rainey, the guy who should carry the mail is Rainey.