McCown New Face Of NFL QBs?
April 7th, 2015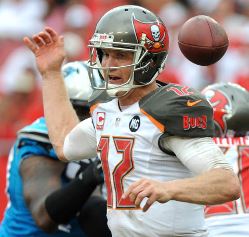 Joe is as stunned as the next guy that turnover-prone quarterback Josh McCown found yet another team to stick-up hand over $5 million a year for his non-services.
Someone other than an opposing team must consider interceptions a "service."
Add BSPN's Pat McManamon to the mix. In what has to be a tongue-in-cheek offering, McManamon tries to find the logic in how any sober NFL executive can fork over so much money to the former Bucs quarterback.
McCown is basically a guy who has extended his career and earned a lot of money with five good games in Chicago in 2013. When Jay Cutler was injured, McCown (with Brandon Marshall and Alshon Jeffery at receiver and Matt Forte at running back) completed 66.5 percent with 13 TDs and one interception, and won three-of-five starts.

Tampa Bay rewarded him with $4.75 million in guaranteed money in 2014. After he went 1-10, the Browns rewarded him with $6.25 million in guaranteed money.

Presumably, if McCown goes winless this season he will earn more than $10 million for another team next season. This clearly is a career and economic path that most would wish to follow. This is the Browns' new starting quarterback.
If the Browns are looking to win the Chase for Christian this coming season, then they cannot find a better caretaker than McCown. However, the way Hackenberg regressed under Penn State coach James Franklin (who is a spread guy and Hackenberg is not), Joe is not convinced the Browns need the first pick overall in next spring's draft to land Hackenberg.
Provided the Bucs and/or Jameis Winston don't screw up in the next three weeks, McCown will go down in history as leading the Bucs to victory in the Chase for Jameis.