Mariota + Melvin Gordon "To Fix This Offense"
April 11th, 2015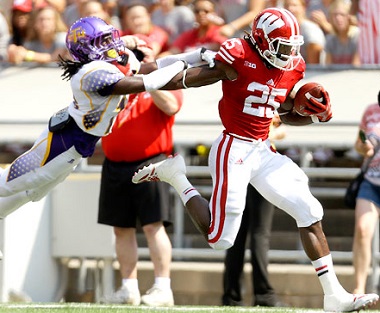 It's not just Father Dungy leading the Marcus Mariota Gang (and the trade-down crowd). Another respected voice is picking Mariota to lead the Tampa Bay offense — and for a stud running back prospect to join him.
Joe doesn't support such maneuvers, but Joe won't ignore that they're possible. Lovie Smith is one unpredictable cat.
Pat Kirwan, the former Jets linebackers coach and personnel chief, and a Bucs scout long ago, dove into a Round 2 mock draft on SiriuxXM NFL Radio yesterday and emerged with the Bucs drafting Wisconsin running back Melvin Gordon at No. 34 overall.
"I think there's a little bit of frustration with the run game down in Tampa Bay. And it's too good to be true, they're going to take Melvin Gordon, the big time running back out of Wisconsin to team up with Marcus Mariota to fix this offense," Kirwan said.

"Remember, they got the two big wide receivers. They got a big-time tight end. I think Melvin Gordon [ends] up being the starter."
Joe might just ram his face into a wall if the Bucs drafted Gordon. What a waste of a pick that would be, especially on the heels of drafting Charles Sims in the third-round last year. Sure, a great running game can be a rookie quarterback's best friend, but so is an offensive line that isn't among the NFL's worst.
Fix the O-line first, and if the current corps of running backs can't cut it, then go trade for Matt Forte at the deadline this year and draft an RB next year in the middle rounds.
You can hear all of Kirwan and cohost Jim Miller, the former NFL quarterback, below.