Concern For Dirk Koetter?
April 11th, 2015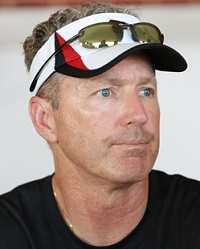 By all measures, it seems the Bucs scored a touchdown landing Dirk Koetter as the team's new offensive coordinator. Virtually everywhere he has been, Koetter has pumped out decent if not good offenses.
Koetter made former America's Quarterback David Garrard into a solid signal-caller. And we all know the success Koetter had with Matty Ice in Atlanta.
But it was the quarterback that Koetter couldn't develop, the notorious Blaine Gabbert, that has raised an eyebrow of Pat Yasinskas, of ESPN.com.
Koetter's history with a rookie quarterback isn't very good. In 2011, the Jaguars drafted Blaine Gabbert in the first round. Gabbert struggled mightily in a season that got coach Jack Del Rio fired.

Gabbert completed only 50.8 percent of his passes for 2,214 yards with 12 touchdowns and 11 interceptions. That was the only season Koetter and Gabbert were together. You can't put all the blame on Koetter. Gabbert's stats were worse the next two years in Jacksonville before he ended up as a backup in San Francisco last season.

Maybe Gabbert was overrated coming out of college. But Koetter's experience with a rookie quarterback could be a cause for concern because the Bucs are likely to use the No. 1 pick in the draft on Jameis Winston or Marcus Mariota.
Could be a combination of things here. First, Gabbert wasn't very good. Pretty sure if Jim Harbaugh couldn't turn around Gabbert (remember, Harbaugh saved Alex Smith's career), that means Gabbert has the problem.
Also, Gabbert had hot garbage to throw to. Joe was roped into watching Jacksonville at St. Louis a couple of years ago in person with Gabbert as the starting quarterback for the Jags. That may have been the worst NFL team Joe has ever seen.
With the Bucs, Jameis Winston will have Mike Evans and Vincent Jackson. Gabbert never had weapons remotely as talented.
This does bear monitoring, that Koetter has worked well with vets, but not with a rookie. Something to ponder as the season transpires.