Lawrence Tynes Sues Over MRSA
April 7th, 2015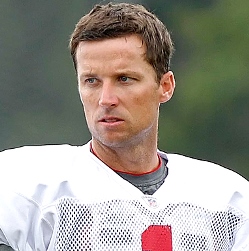 The MRSA saga of commander Greg Schiano's days won't go away.
With Schiano relegated to part-time TV work, one of the three Tampa Bay players known to have contacted MRSA in 2013, Lawrence Tynes, has slapped the Bucs with a $35 million lawsuit for lost potential earnings and damages.
As Deadspin.com pointed out, trying to prove the Bucs were at fault is a bit of a reach.
Tynes will have a difficult time proving his case. It seems pretty cut-and-dried—the Bucs had to cleanse their facility of MRSA and three players contracted it, therefore the team is at fault—but as an actual doctor explains, MRSA is all around us, and it is difficult to prove its existence in any one location. And even if Tynes can prove that it was present at the Bucs facility, he'll probably still need to prove that his particular strain is the same one found there.
The MRSA was the final straw in Nicks' career — he was nearly done due to turf toe — and Johnthan Banks bounced back just fine to become one of the up-and-coming young cornerbacks in the game.
Have fun in court, Mr. Tynes.