Jaws Jabbed For Backpedaling
April 14th, 2015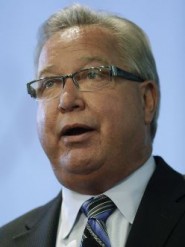 Ron "Jaws" Jaworski, the former NFL quarterback and current ESPN QBs guru, is not standing strong behind his claim that "wired in" sources have told him Marcus Mariota will be the Buccaneers draft pick at No. 1 overall.
Mike Florio, of ProFootballTalk.com, fired away on Jaws today, highlighting a SportsCenter exchange that had Jaworkski wilting.
"All along we've been hearing Jameis Winston to the Bucs at No. 1 overall," anchor Stan Verrett said to Jaworski.  "Now you're hearing Marcus Mariota, what's going on?"

This is the point where Jaworski would have added to his prior statement, saying that the Buccaneers are privately telling people that they are taking Mariota, or that the Bucs have launched contract talks with Mariota's agent.  It was Jaworski's chance to offer something tangible that would dovetail with his proclamation that Mariota will be the pick.  But that's not what Jaworski said.

"I am right now of the belief that Marcus Mariota is the best QB in this draft," Jaworski explained.  "I'm beginning to see a more clear vision of Marcus Mariota as the No. 1 pick in this draft.  Right now, this is a process.  It takes time.  And it's going to go right up to the last second I believe for the Buccaneers to decide who's going to be their quarterback of the future, and who they take at No. 1."

That doesn't dovetail with Jaworski's prior comments, which clearly came off as a report that they will take Mariota.  Which clearly implies that the decision has been made.  And now Jaworski clearly says a decision hasn't been made.
It smells like either Jaworski fabricated his initial claim for entertainment value, or his "wired in" sources let him know they were wrong or things have changed.