The Blond, The Black Dress & Jameis Winston
April 14th, 2015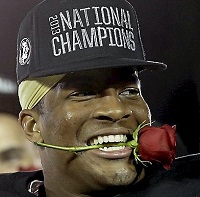 Yes, Jameis Winston keeps interviewing with teams other than the Buccaneers.
This week, he was in Tennessee, and there is video.
The Titans produced one for their website, and Joe really found it humorous that Winston was escorted into the facility, per the video, by a sultry blond wearing a short black dress. She's seen showing him around the facility, too. Per photos of Winston's Tampa visits on Buccaneers.com, Winston only had Bucs general manager Jason Licht showing him around One Buc Palace. Oh, well. Perhaps the Bucs didn't want to use that distraction tactic.
Winston also sat down for an in-house media interview in Tennessee.
Among the highlights, Winston said during his workouts with various teams, nobody has asked him to do anything unique but he has focused on showcasing his weaknesses.
"So I know there's a lot of areas of improvement that I need to make. I try to find my weakest parts of my game and show them I can do anything," Winston said.
A big focus of his Winston's offseason was improving "movement in the pocket. "Moving and throwing," he said.
Winston added that he believes one of his greatest strengths is instilling a winning attitude in teammates.