Good News: Dave Wannstedt Votes Mariota
April 27th, 2015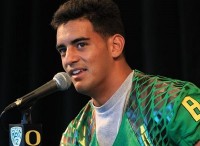 Once upon a time in 1997, the Bears, with the full support of then head coach Dave Wannstedt, were happy to cough up their first-round draft pick in a trade for Seattle bust QB Rick Mirer, the No. 2 overall pick in the 1993 draft.
What a historic disaster.
At least when Lovie Smith coughed up multiple first-round picks for bratty Jay Cutler, his Bears got a solid player in return and were in the NFC Championship game a year later. (Yeah, Joe knows Lovie's 2010 Bears had the NFL's 30th ranked offense.)
So with all that in mind, Joe was pleased to hear Wannstedt chatting about how Marcus Mariota is his choice if he had to draft a quarterback this week, during an interview on 99.3 FM in Fort Myers.
Wannstedt, the 2013 Bucs special teams coach, prefers defensive end Leonard Williams and is too nervous about Jameis Winston. He said Winston will bring "negativity" to the team with the "pending civil suits," and taking that on is "a big decision when you're trying to get the franchise turned around."
Joe can't argue with the assertion that Winston will bring a negative light on the Bucs as his civil suit progresses. That's inevitable, given the media coverage. However, some bad press is no reason to pass on the best available quarterback prospect.
Building a football team always is a series of calculated gamble. Winston is far less of a gamble than handing the football to a career loser QB like Josh McCown and asking him to be a winner.