Shaq In Round 2?
April 27th, 2015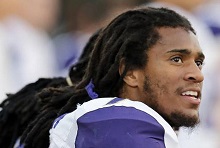 Joe's seen his share of unbelievable draft chatter, and this one is up there.
Intelligent draft analysts must be smoking hard drugs if they're predicting the Bucs draft a linebacker/safety/running back with the No. 34 overall pick.
Right?
Well, that's what NFL.com scouting guru Lance Zierlein and Chad Reuter are thinking. They've got the Bucs heading back to the Pac-12 for the most interesting man in the draft, converted running back Shaq Thompson.
34. Tampa Bay Buccaneers: Shaq Thompson, LB, Washington
Thompson could play safety or linebacker in the NFL, making him a better fit for the Bucs' defense then former starter (and fellow "U-Dub" star) Mason Foster.
Thompson played linebacker last year but also rushed for 456 yards rushing on 61 carries. The guy is a throwback, and an athletic freak.
NFL Network draft guru Mike Mayock grades him as a safety. Thompson compares himself to Lavonte David and insists he's an outside linebacker.
Joe insists the Bucs won't go near Thompson. He can't keep Jameis Winston upright or rush the passer.