Dungy's Montana-Mariota Silliness
April 30th, 2015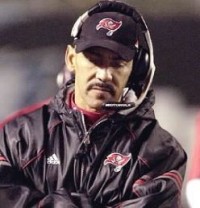 Father Dungy might be soon-to-be NFL quarterback Marcus Mariota's biggest fan.
Heck, Joe talked 1-on-1 with Dungy about this topic during Super Bowl week.
Dungy sees elite greatness in Mariota, though Dungy acknowledges Mariota will require significant time to make that happen.
That's awesome. Joe agrees that Mariota can be great, too. However, Joe thinks Dungy took his Mariota love over the top yesterday on PFT Live on NBC Sports Radio.
Dungy implied Mariota will command Joe Montana-like respect right away. Here's a snippet (you can read more via the link):
"What players want the quarterback to do is make plays when the plays are out there to make," Dungy said.  "I remember Joe Montana coming in, I was with the 49ers Joe's rookie year. He didn't say two words to anybody.  But when he got out on the field, you understood this guy was all business, he knew what he was doing, pressure didn't bother him. And he was a leader."
Dungy was a 1979 teammate of Montana with the 49ers, but for the record, Montana was a third-round draft pick who made just one start for that 2-14 San Francisco team. He wasn't exactly under pressure and wasn't expected to lead.
If the Bucs draft Mariota — or whatever team does atop the first round — he'll be under immense pressure. The NFL is a different world than it was 36 years ago, or 10 years ago, or even seven years ago.
Jameis Winston seems much more equipped to handle what's coming this year.