Father Dungy Talks Mariota, Winston
January 27th, 2015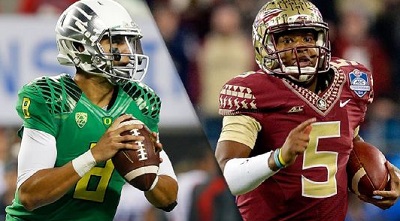 Man, Joe's had one hell of a busy day at Super Bowl Media Day and surrounding festivities. Bucs fans are going to want to stay glued to JoeBucsFan.com this week and next month. Joe's got all kinds of fun stuff.
Late this afternoon, Joe got a chance to pin down Father Dungy on his famous quarterback endorsement.
Of course, Dungy labeled Marcus Mariota six weeks ago as the next Aaron Rodgers. Joe told Dungy that he sent shockwaves through the ranks of faithful Bucs fans.
"Does that mean you don't like Jameis Winston," Joe asked Dungy today.
"It doesn't mean I don't like Jameis at all," Dungy said. "I haven't seen Jameis play as much as I've seen Marcus. I've seen Marcus play. I've seen him practice. I've been around him as a person. I believe in him. And he does remind me a lot of Aaron Rodgers coming out of college. You know, Aaron Rodgers didn't play for three of four years in Green Bay, and now he's arguably the best quarterback in football.
"But I think Marcus has a lot of the same skill set. He has the same drive and determination. I just really think the world of him as a person. I just think he's special. If I watched Jameis as much, and knew as much about him, I'd probably have a similar opinion but I just think Marcus is going to be sensational in the NFL.
Joe: A lot of people say Marcus isn't pro-ready because of the offense he plays in. Is there something to that?
Dungy: They said the same thing about Aaron Rodgers and he went late in the first round last year. And the feelling was that Alex Smith was a little more ready. I think Marcus will adapt and he'll be fine.
Joe: Adapt right away?
Dungy: That's something that would depend on his coaching staff and his new organization.
Joe: Is that something you expect to tell Lovie Smith, how you feel about Mariota?
Dungy: If he asks me. (laughs) Only if he asks me.
Joe: You don't think he'll ask you?
Dungy: He may ask me before it's all said and done.
Joe: (Laughs) We saw you at Bucs practices. You've been around the team.
Dungy: (Laughs) I'll be around Lovie a lot, but I don't offer my opinion until it's asked for.