Dangling Doug Martin
April 30th, 2015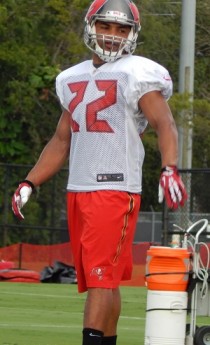 Trivia time! Which Bucs running back has more 100-yard rushing days through the past 30 Buccaneers games, little used Mike James, or 2012 first-round pick Doug Martin?
Gotcha. They're tied with one apiece. Martin ran for 108 yards on 19 carries against the Saints in the tank-for-Jameis finale last season. James ran for 158 yards on 28 carries versus the eventual Super Bowl champs in Seattle in 2013.
Some might tell Joe that's unfair, since Martin says he was banged up badly for most of 2014, and Martin tore up his shoulder and needed surgery in 2013. However, James broke his ankle against the Dolphins in 2013, following five carries for 41 yards. James went under the knife, too, and he wasn't quite right last summer.
Also, consider Bobby Rainey might be the best Bucs running back, and the team invested a valuable third-round pick in favorite son Charles Sims last year.
Joe would be surprised if the Bucs aren't dangling Martin on the trade market this afternoon.
Why shouldn't they?
Martin is about to enter the last year of his contract; there's no way the Bucs pick up his expensive fifth-year option by next week's deadline. Martin very well may have a bounce-back season, if he wins a starting job. But if that happened, would the Bucs realistically want to pay what it would take to re-sign him?
Maybe Tampa Bay gets lucky and finds a team willing to part with a mid-third-round pick for Martin. That would be a nice haul. Joe would take that deal and run.
Talented, injury-prone running backs are easy to find, and healthy good ones can be had late in the draft — or sometimes at the end of your own bench.