One Buc Palace Not Moved By Suit Vs. Winston
April 17th, 2015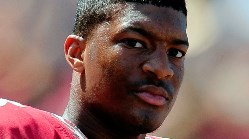 Yesterday, the legal version of tax day came, the civil lawsuit against Jameis Winston by the same woman from the same alleged incident that Winston has been cleared of by four investigations and hearings.
Anyone who didn't see this coming literally had his head in the sand or was living under a rock for the past two years.
The Bucs, who have done far more investigation into the background of Winston than Joe, or you, or the drunk in the bar, are unmoved by the civil suit, Twittered Woody Cummings of the The Tampa Tribune.
Bucs officials say civil lawsuit filed against FSU QB Jameis Winston today will have no effect on their draft plans.

— Roy Cummings (@RCummingsTBO) April 16, 2015
Remember that Bucs co-chairman Joel Glazer told Joe at the NFL owners meetings he was comfortable with Winston playing for Tampa Bay.
Again, Team Glazer has the background investigation report on Winston, and met with Winston. Clearly, the Bucs expected the civil suit; the team of lawyers representing the woman all but promised it was coming. The only question was, when?
It sure smells like the timing was an effort to sabotage Winston's chances of being drafted No. 1 overall. Joe would think the legal team representing the woman would want Winston to be drafted as high as possible so he earns as much cash as possible — more to grab if she finds a friendly jury.
Joe is still waiting for the moral outrage directed at Titans quarterback Zach Mettenberger, who actually plead guilty to sexual assault before he was drafted last year.