B+ On George Johnson Trade
April 18th, 2015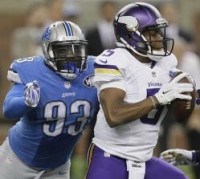 Joe senses the Bucs may go offensive line in the second round of the draft, or at least with their second pick (moving back into the first-round is always possible).
Last week, Bucs general manager Jason Licht implied defensive tackles will key the pass rush, led by superstud Gerald McCoy. Then, the Bucs consummated a trade for Lions defensive end George Johnson, who had six sacks last season in a limited role. That move should temper any pressure to take a defensive end on Day 2 of the draft.
Folks in NFL circles have raved about the trade from a Bucs standpoint, including no less an authority than Bill Polian. Joe finds that heartwarming.
One NFL voice who loves the trade is the WalterFootball.com crowd, which gave the Bucs a B+ on the deal.
" … this is a good trade for the Buccaneers. They're getting a promising pass-rusher who accumulated six sacks last year despite playing half the snaps. It was Johnson's first real action as a defensive player in the NFL, and he thrived when given the chance. It's unclear if he can be a starter, but he'll at least be a solid rotational player for Tampa.
If Johnson — who was once with the Bucs but good luck remembering him — isn't just a flash-in-the-pan, it sure seems like the Bucs got a steal. At worst, the Bucs should have a valuable piece of depth, which is too often overlooked.