Exact Preseason Kickoff Times/Dates Finalized
April 18th, 2015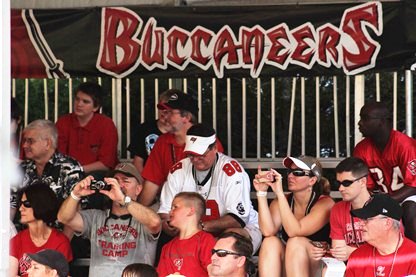 Only 121 more days!
Yes, that's when your beloved Bucs will take the field again.
Preseason kickoff times and dates were released yesterday. Previously, only the Monday night game against the Bengals in Tampa was scheduled.
Saturday, Aug. 15, 8 p.m. EDT,  at Minnesota
Monday, Aug. 24, 8 p.m.,  CINCINNATI
Saturday, Aug. 29, 7  p.m., CLEVELAND
Thursday, Sept. 3, 7 p.m., at Miami
Joe's pumped up. It's a great schedule for fans, with the meaningless fourth game being played on the road. Also, opening in Minnesota will be a great first test for the Bucs' new quarterback, as will be the added pressure of Monday Night Football and a national audience.
The all important third game, the dress rehearsal against Josh McCown and the Browns, will be on the home turf. Perhaps the Bucs can actually win a game in Tampa again.